The media are not toys… they can be entrusted only to new artists, because they are art forms.
(McLuhan, 1954)
NO NAME - 2018




Consejo Curatorial Salón ACME No.7


Mártires de la Conquista - 2018


Salón ACME No. 6 Consejo Curatorial:

Quetzalcoatl - Museo Raúl Anguiano
CREATORS VICE
HARPERS BAZAAR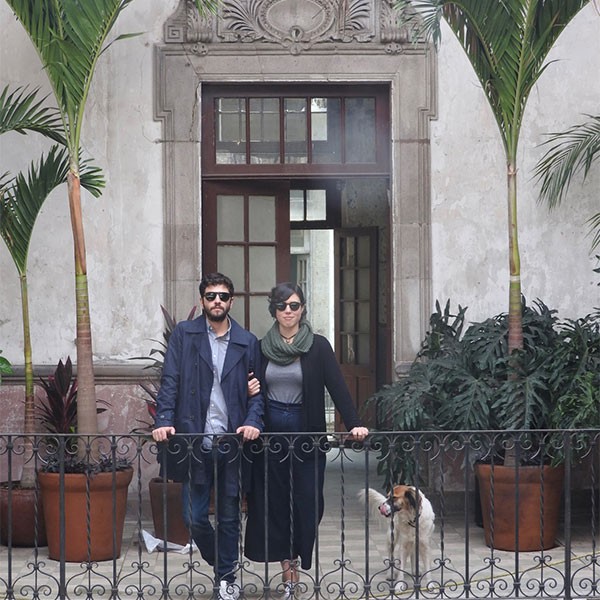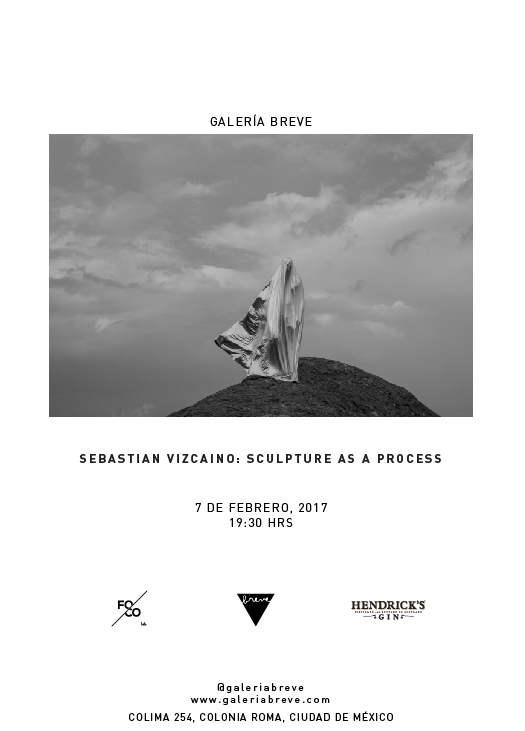 Sculpture As a Process, 2017
Galería Breve, Mexico City

VOGUE


ALL CITY CANVAS
Consejo Curatorial Salón ACME No.5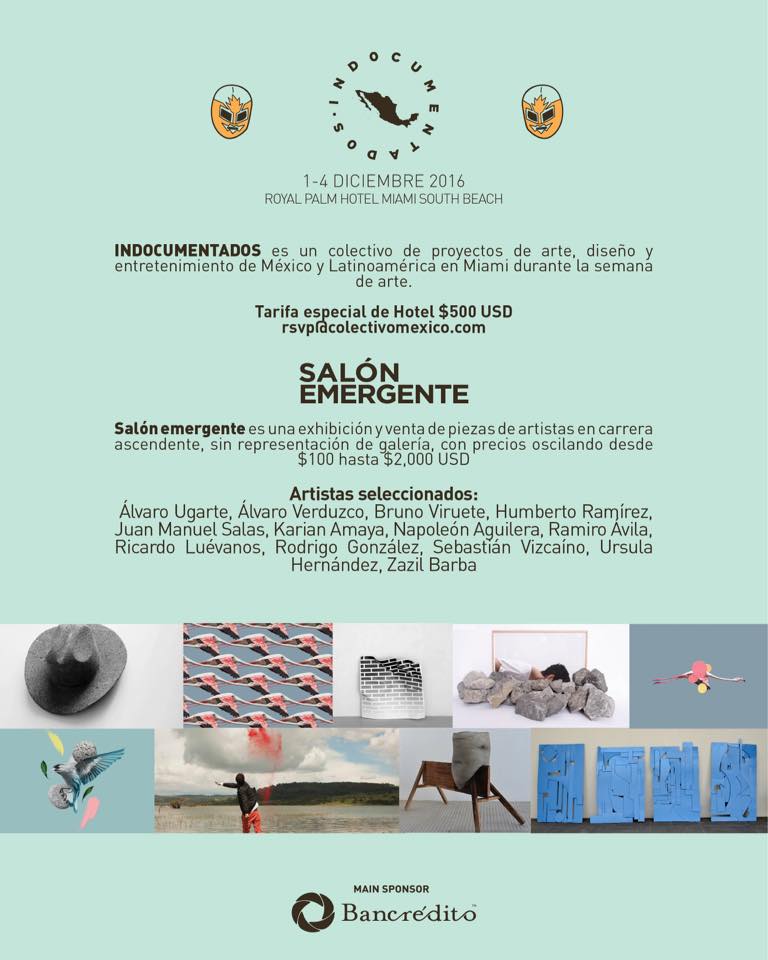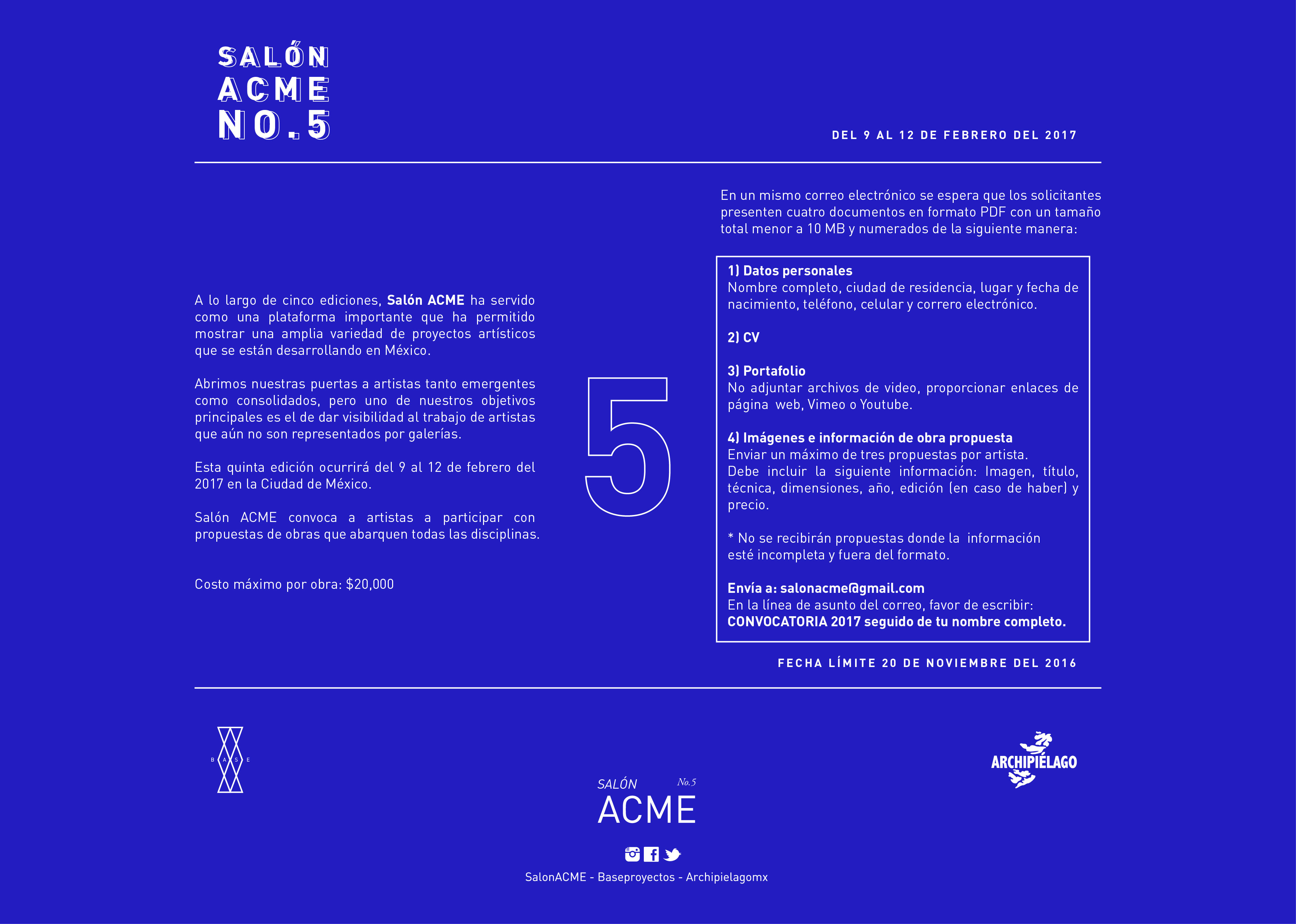 Salón ACME No.5
Convocatoria - Open Call

ARTERE-A PROJECT

ARTIFICE GALLERY SHOW
NO NAME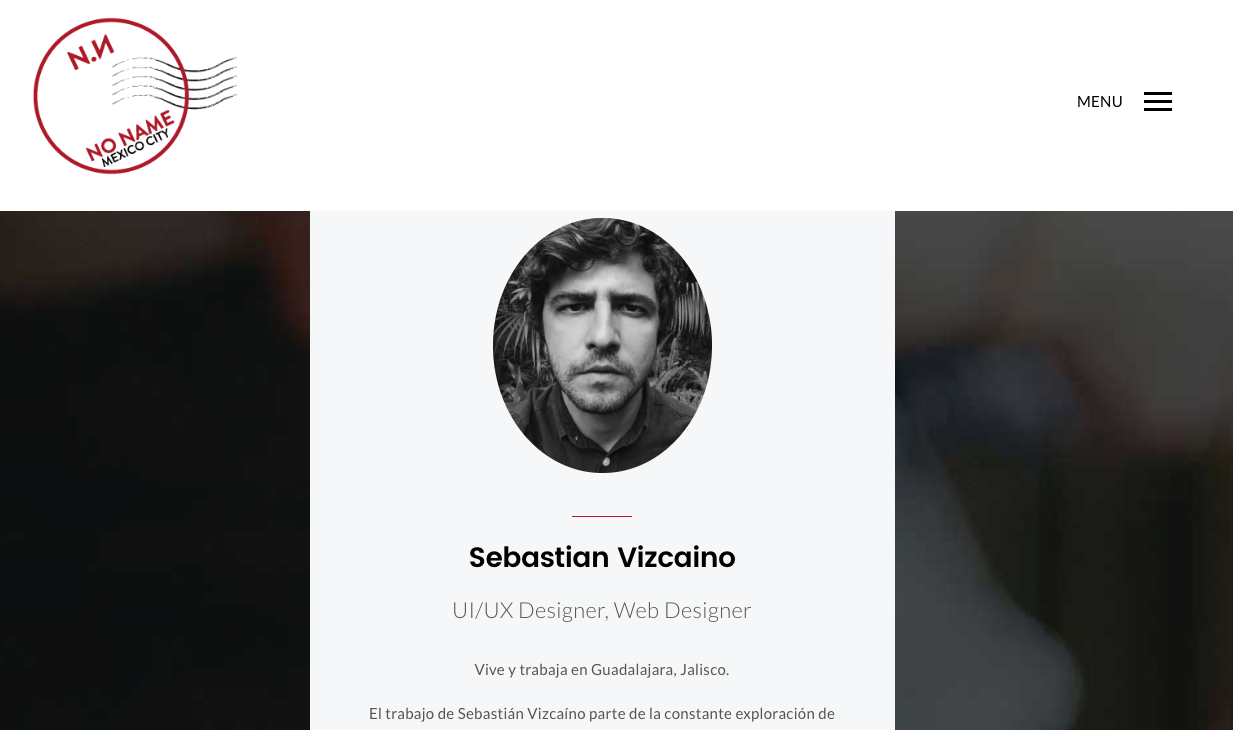 UP NEXT
Salón ACME No.5


ATLAS SOBRE PAPEL - Galería PÁRAMO, Guadalajara, México


PUM - Proyectos Unido Mexicanos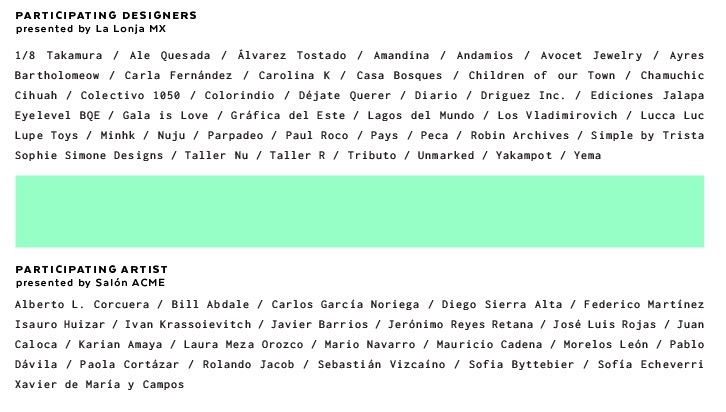 PUNTO DI INCONTRO
Participación en Subasta
MILENIO
HABLEMOS


POPPOSITIONS OFF THE FAIR
Salón ACME - Brussels

http://www.poppositions.com


POPPOSITIONS
2015
24-27 April 2015 (during Art Brussels)
12:00-20:00
Opening: 23 April 17:00-22:00
At the Canal Wharf in Brussels

More practical information here
Conceived as an experiment with the art fair format, POPPOSITIONS is an assembly of galleries and hybrid art spaces. Changing location within Brussels for each edition, POPPOSITIONS aims to occupy a critical position during Art Brussels.
The 5th edition will showcase a significant gathering of international participants throughout 10,000 square meters of abandoned office spaces. POPPOSITIONS is boasting a disruptive fair model catching visitors off-guard. It challenges the white cube format to show cultural innovation in a curated show.


VOGUE México
Salón ACME No.3
Entrevista




Este mes se han creado un sin fin de eventos sobre Arte Contemporáneo en la Ciudad de México, y entre los muchos que existen vale la pena mencionar el Salón ACME. Sebastián Vizcaino, uno de sus fundadores, lo explica de manera muy simple pero a la vez lo dice todo "Salón ACME es un espacio hecho por artistas para artistas, a quienes se les brinda la oportunidad de mostrar su trabajo, venderlo y conservar el 100% del costo de su obra".
Salón ACME es un espacio hecho por artistas para artistas."
Este espacio debe su éxito a la credibilidad que tiene con los artistas, ya que tratan con la misma seriedad a los emergentes como a los consolidados, además el consejo curatorial esta integrado por varias de las personas mas respetadas en la cultura del País, encabezado por Guillermo Santamarina (Curador y artista), e incluye este año a los siguientes integrantes: Teresa Margolles (Artista), Tania Ragasol (Curadora), Paula Duarte (Curadora), Fernando Mesta (Galerista), Santiago Merino (Artista), Alpha Escobedo ( Curadora / Escuela de curaduría Ciudad Juárez, Jessica Berlanga (Alumnos 47).
Esta plataforma esta conformada por dos secciones: una determinada curatorialmente por un invitado que selecciona y articula obras de artistas de un estado específico del país; y otra que incluye obras seleccionadas por el consejo curatorial del Salón, a partir de una convocatoria abierta.
Salón ACME
5 al 9 de febrero
Rafael Rebollar 95, Colonia San Miguel Chapultepec, México D.F.
MILENIO



YIICA 2014 show
Selected Artist
Sebastian Vizcaino


Salón ACME No. 3
Del 5 al 8 de Febrero, 2015


Esquire Latino america
LINK




Harpers Bazaar Latinoamerica
LINK




Salón ACME - 2015
Convocatoria abierta
Open call for artists




www.salonacme.org
FACEBOOK

SELECTED ARTIST FOR YICCA, 2014

Young International Contest of Contemporary Art


yicca.org/en/
SELECTED WORK:


ARTE VIVO
Museo de Arte Moderno, México, DF





CATÁLOGO ONLINE

imagomundiart.com
Comisoned work for Imago Mundi
"Imago Mundi is a cultural, democratic and global project that looks to the new frontiers of art in the name of coexistence of expressive diversity," said Luciano Benetton. "Our intent is to tour the collection, to bring it, through exhibitions, catalogues and this web project, to the largest possible number of people, and to encourage a sincere dialogue with art and with the world, remembering that meaning, ideas, reason and inspiration are not the monopoly of a few, but thrive on interaction and communication."
- Luciano Benetton





Salón ACME No.3
5 - 8 de Febrero, 2015

Estado Invitado:
CHIUAHUA Convocatoria:
Noviembre 2014
www.salonacme.org - info@salonacme.org

COOLHUNTER

www.nyartsmagazine.com
www.acmebrooklyn.org
We had the pleasure of attending the opening reception of a group show at La Fabrica Gallery. This Event May Be Occurring In Another Context, is a collective art show created by ACME Brooklyn to create a community between Mexico and USA. ACME Brooklyn is an art project that aims to display the artistic production of a specific context. A group of artists from the emerging and established art scenes of Mexico and New York are invited to express views on the meaning of cultural displacement and the interpretation of identity in over-populated cities that geographically distance origins.
This Event May Be Occurring In Another Context is the premier show of La Fabrica Gallery, created by Felipe Mendez Candelas. With 15 years of experience as an entrepreneur, he now takes a new tangent by opening his warehouse for La Fabrica Gallery. The space is curated and operated in collaboration with Varenka Ruiz.
We highly recommend to take a look of these group of talented artists: Adrian S. Bara / Alberto Lopez Corcuera / Alvaro Ugarte / Bill Abdale / Christian Calabro / Claudia Peña / Cleon Peterson / Dakota Sica / Enrique Santos / Federico Saenz / Karian Amaya / Lotta Matila / Marina Silva / Mario Navarro / Monica Escutia / Pablo Davila / Rodrigo Imaz / Scotty Albrecht / Sebastian Vizcaino / Varenka Ruiz / Zazil Barba

JUXTAPOZ

Societe Perrier
ACME Brooklyn



www.acmebrooklyn.org

ACME Brooklyn is an art project that aims to display the artistic production of a specific context. On this occasion, a group of artists from the emergent art scenes of Mexico and New York are invited to produce and generate a piece for different exhibition spaces: a warehouse, an old textile factory (now turned hotel), and a movie theater.
Within this communal ground, the dialogue and cultural exchange between the participating artists becomes the subject of the project.
ACME Brooklyn is a project created by BASEProyectos, Archipiélago, Mezcal UNIÓN, La FabricaGallery.
In collaboration with Wythe Hotel, La Superior,Cerveceria Havermayer, Kinfolk Studios and Rich Lane
Artists:
ADRIÁN S. BARÁ / ALBERTO LÓPEZ CORCUERA
ALVARO UGARTE / BILL ABDALE
CHRISTIAN CALABRO / CLAUDIA PEÑA
CLEON PETERSON / DAKOTA SICA
ENRIQUE SANTOS / FEDERICO SAENZ
KARIAN AMAYA / LOTTA MATILA / MARINA SILVA
MARIO NAVARRO / MÓNICA ESCUTIA / PABLO DÁVILA RODRIGO IMAZ / SCOTTY ALBRECHT
SEBASTIÁN VIZCAÍNO / VARENKA RUIZ / ZAZIL BARBA
LEVIATÁN - Museo de Arte Raul Anguiano


Salón ACME No.2


SALÓN ACME II from Zazil B. on Vimeo.



Salón ACME No.1




CREAM MAGAZINE

cream.mx/sebastian-vizcaino